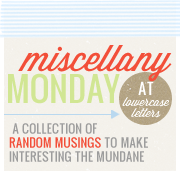 I'm hooking up with Carissa over at
Lowercase Letters
today to join in on the Miscellany fun :) I hope my random Monday Musings don't bore you too bad (just hit the "x" at the top of the screen if they do :))
Grad school has taken over my summer. I have only 2 weeks left - I can taste my freedom. Unfortunately I have a lot of papers that are clouding up the sweet vision of freedom, but I know that these next 2 weeks will fly by and it will be over before I even know it
Stephen and I have a had a lot of weekends of craziness. 4 weeks ago we went to Columbus for Stephen's cousin's wedding (5.5 hours) then drove to Louisville that same weekend (3.5 hours) then drove back to Chicago (5 hours). 3 weeks ago Stephen's parents came in for the weekend and we travelled to the suburbs for a wedding that happened to take up the majority of our Saturday. 2 weeks ago we drove to Pittsburgh (8.5 hours) to see Stephen's Nana and then drove a different way back because the Turnpike cost us $30 on our way there. We added an extra hour to our trip on the way home. And then this past weekend we drove to Louisville for the weekend. Needless to say, I'm sick of road trips.
Stephen's Nana went home on Friday night. She has had a port put in for when she needs blood platelet transfusions (this is about every 5 days) but other than that, she seems to be back to her old self. We are thankful that she is home (with Stephen's Aunt) where she is at peace and is comfortable. We would definitely appreciate continued prayers for her as the long term effects of her illness don't seem to be promising.
I bough material this weekend to make something other than a pillow (although I did buy material to make a pillow as well :) )...I'll keep you posted on my upcoming projects :)
I've started a Bible Study for the summer that meets on Wednesday mornings at my friend,
Amy's
house. We're studying the book of Esther by doing a Beth Moore Bible Study. This is the first time that I've ever done a Beth Moore study, and so far I love it. The last time I read the book of Esther was when I was a Junior in College and I we studied it in my Bible Study with Mandy and Michelle. Those were the days! Reading it again is so awesome because I'm seeing new things and making meaning out of things that I didn't before. It's also fun because it makes me remember the days when I was in college living in Lexington with all my peeps.
I've lived in Chicago for 9 months and it seems like I moved here only yesterday. They say that time flies, but I am always amazed at just how fast it whips through and leaves you out of breath and with your hair all in your face. I still feel like it was yesterday that I moved here...I must say that I like the summer a bajillion times better than I could ever hope to like the winter here :).
I had to go out this morning and work with a kid for my Tuesday/Thursday night class. When I returned I drove down my street to find a spot but was bummed when there were none. Luckily, I didn't have to park too far away, just one street over, but when I walked to my building there was a spot that had just opened up right outside. Son of a gun!
I'm all miscellanied out! Head on over to Lowercase Letters and join in on the fun! :)
Happy Monday to you all!