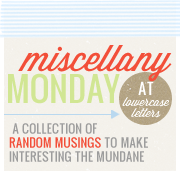 Today, I'm going to join in on Miscellany Monday with Carissa over at
lowercase letters
because I've got a bunch of miscellaneous thoughts running through this little brain of mine :).
(1)
This weekend, Chicago transformed from early Spring to LATE summer. Yesterday (Sunday) the temperatures reached close to the 90s and it was muggy feeling even all the way through the evening. I normally would be so happy about this (and I am so happy that Winter is officially over) but we do not have air conditioning in our apartment. We do have some window units, but I'm trying to hold out...I don't know how long I can go for; it's supposed to be in the 80s all week long. Hello Summer!
(2)
I had a great weekend and wish it weren't already Monday...Stephen and I got to spend time with my dear Young Life friends (3 of which I hadn't seen since December, 2005!) including my lovely friend
Jenna
. On Sunday, we also had an unexpected lunch with our good friends
Matt and Amy
, I had Bible Study last night and then afterwards I watched my 1st episode of LOST ever. That's right, my very first episode of LOST was the finale :).
(3)
The sun is shining as I blog inviting me to go outside and enjoy in its goodness. I do need to be a bit responsible before then...off to the grocery store I go!
(4)
Tomorrow, I will start Weight Watchers. I'm not going to be "officially" a part of the WW community, but I will be making a huge effort to follow it on my own. I did WW 2 years ago and lost 20 pounds entirely by changing my eating patterns. I came across some pictures from the summer of my WW success and I found it incredibly motivating. The first time I did it, I was naive enough to think that the hardest part about weight loss was the actual losing it...little did I know that maintaining the weight loss was WAY harder than taking it off - and I failed miserably as I gained back my entire 20 pounds (and then some). I'm hoping for the same success this time around!
(5)
We received some interesting news about Stephen's job last week. Please be praying for us as we try to figure out what God wants us to do in light of this news.
Head on over to
lowercase letters
and hook up with Miscellany Monday for yourself!