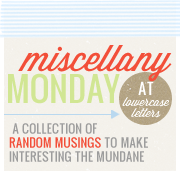 I'm joining in (a day late) with Carissa over at
lowercase letters
for Miscellany Monday (please forgive my tardiness to the party!).
1. I'm sick of sweating. I can't wait until I get to submerge my hot (temperature-wise) and sticky body into my parent-in-law's pool. What a great day this will be!
2. I spilt coffee the other day and now our apartment smells like a french vanilla foot. I can't help but think that can't be a good thing. My husband doesn't smell it, but then again, what guy do you know can accurately identify the odor of feet? If they could then all their bachelor apartments would've smelled much better, ya feel?
3. I'm afraid to say this out loud, as I'm afraid I will make something drastically happen here in Chicago, but I'm kinda ready for fall. I know, I know, fall means that winter is approaching, but please understand that I'm sick of sweating (see #1).
4. My mom came to town and my diet jumped overboard. I don't know if it were afraid of my mom, although I told it that she wouldn't bite, evidently that didn't work. I'm afraid of stepping on the scale and am actually putting that off until I get back from Louisville....I'm hoping for the best but preparing for the worst!
5. The city of Chicago is plotting against us in our daily quest for parking spots. Apparently they hate us and want us to have to park as far away from our apartment as possible. Thank you, Chicago, for constantly taking spots away and NOT replenishing them!
6. Fall semester is soon to start up. I don't know that I'm ready to do night classes, especially for a whole semester. While the summer course was a pain because I was going to campus 4 nights a week, it was super short. I was spoiled by how quickly it came and went. I don't know how I'm going to feel by week 7 of fall semester when we're still going to class.
I think that's about as miscellaneous as I've got for today. Thanks for accepting my piddly offerings of thoughts :). I hope you all have had a great start to your week!!!